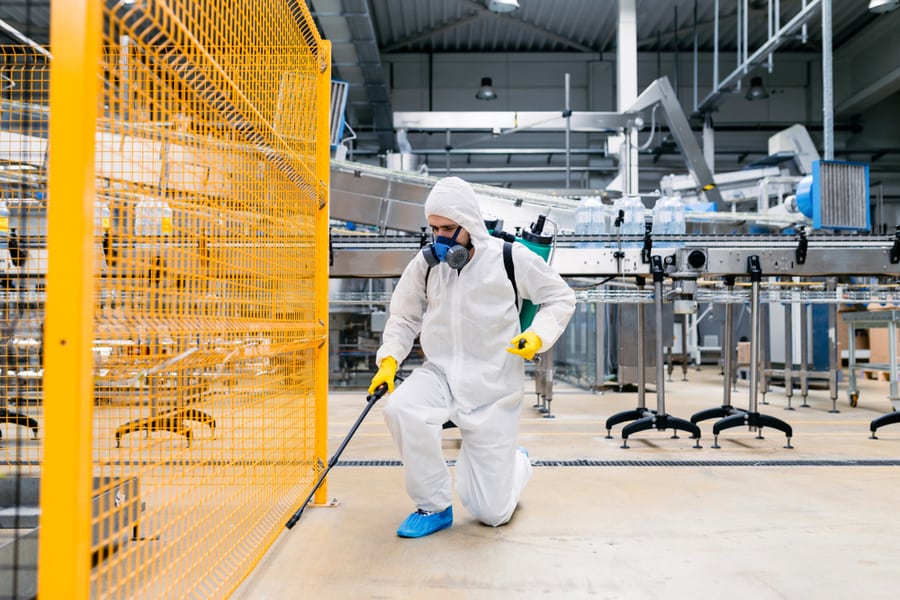 I recently faced a scare with a small termite infestation in our house. Since I knew how quickly a minor termite infestation could transform into something devastating, I decided to hire a pest exterminator to remove them.
I was impressed with the way the pest exterminator handled the situation. They started by inspecting our house and identifying the scale of the infestation, followed by a plan and a precise service quote.
They were highly professional throughout the process, taking the time to take us through all the details, especially additional measures we might need if the infestation worsens. Fortunately, their initial solutions worked without costing us a lot of money.
Having observed how pest exterminators operated with great interest, I couldn't stop thinking about their profession and what someone needs to do to become a pest exterminator. So I did some research and came up with some exciting details.
Pest control is an excellent industry to get into for anyone who finds an interest in animals, although the daily responsibilities can often be challenging. Entry requirements to become a pest exterminator are straightforward.
The candidates have multiple options to gain training and a license to operate, such as completing a pest control training program, on-the-job training, or an apprenticeship with a licensed pest control company.
Here is a comprehensive look into the pest extermination profession, their job description and job demands, how to become a pest exterminator, career progression in pest control, and much more.
Details About the Pest Control Profession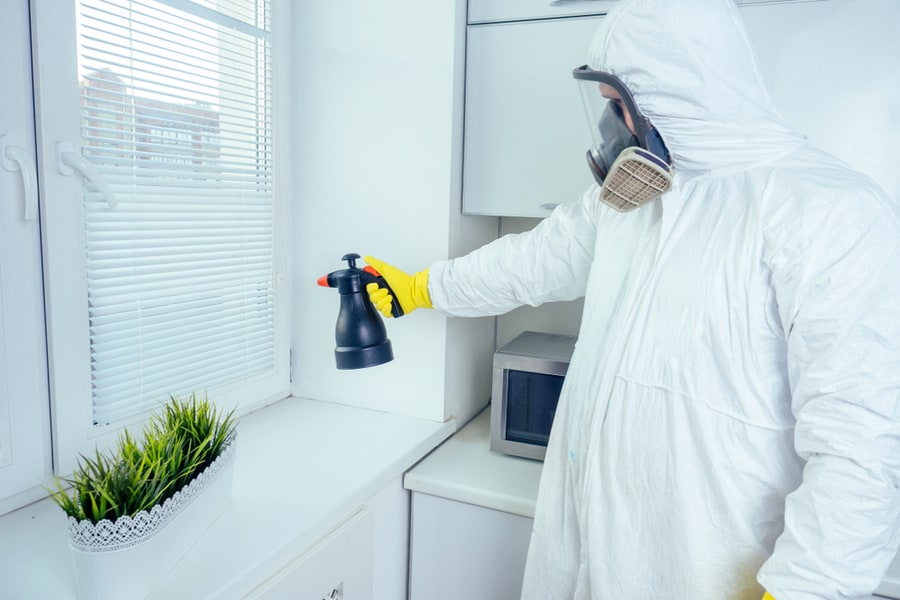 A career in pest control offers a range of benefits. Although it demands hard work and working with various toxins, it's a profession perfect for those fascinated by animals that usually give people nightmares. The job offers plenty of flexibility and stability.
The entry requirements are also less demanding, although specific qualifications and certifications give professionals the edge over others. The job outlook is also stable for pest exterminators. Pest control services will have increased demands in the future due to rapid urbanization worldwide.
Essential Skills for a Pest Exterminator
The work of a professional pet control technician might seem straightforward at a glance. However, it does require many skills. Let's look at some personal traits and skills a pest control professional should possess.
1. A Compatible Mindset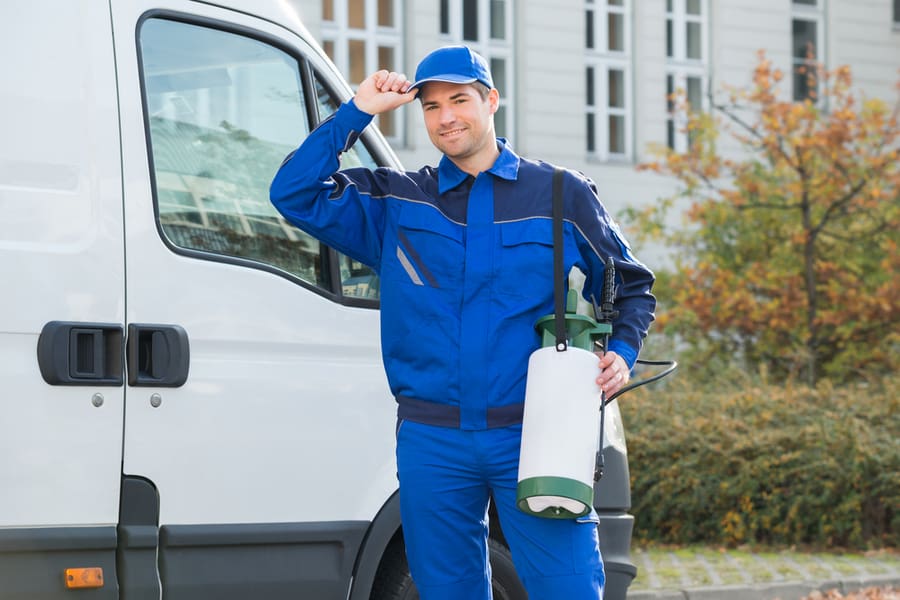 The job of a pest exterminator requires them to get down and dirty. They will sometimes need to work with challenging infestations and environments. Therefore, a person thinking about becoming a pest control technician should ideally have a compatible mindset.
One of the main reasons why people consult pest control services is because they are uncomfortable dealing with pests. Customers do not want to see their pest control expert spooked by a cockroach or rat. Therefore, a person pursuing a career as a pest exterminator should be comfortable dealing with animals.
At the same time, a pest control technician should be comfortable with eliminating pests. Although an exterminator can avoid conflict between humans and animals, most encounters usually end up harming the pests.
2. Fitness and Agility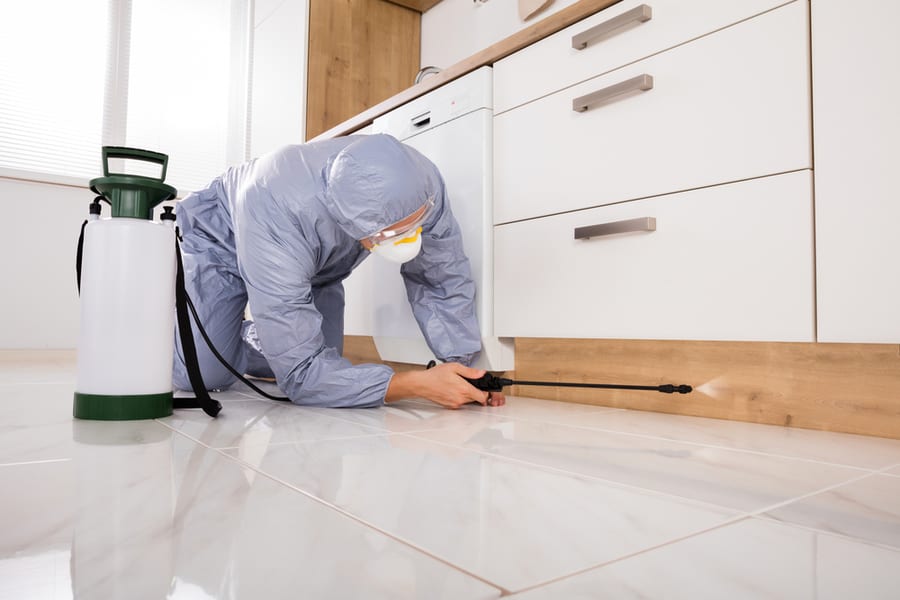 Many everyday tasks of a pest control worker demand them to be physically fit. They spend a lot of time on their feet which requires great stamina.
Pest exterminators also have to climb or do through tight spaces, requiring a lot of agility. They also need to work in extremely hot, cold, or humid environments, requiring excellent physical conditions.
3. Attention to Detail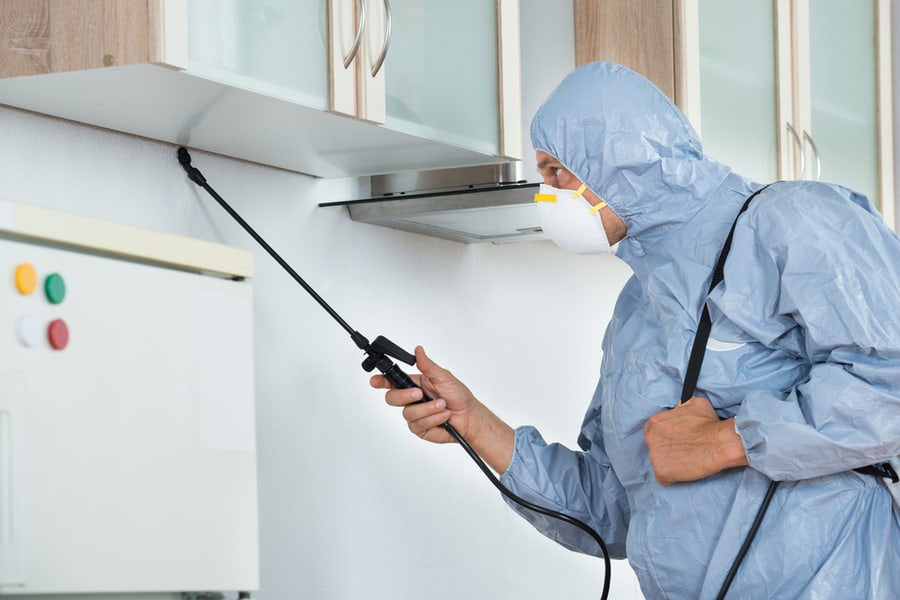 This is an essential skill for any pest exterminator for many reasons. Attention to detail ensures safety, especially when working with dangerous toxins and environments.
Furthermore, it also helps ensure the work is done correctly and aids in accurately tracking inventory and hours while working.
4. Communication and People Skills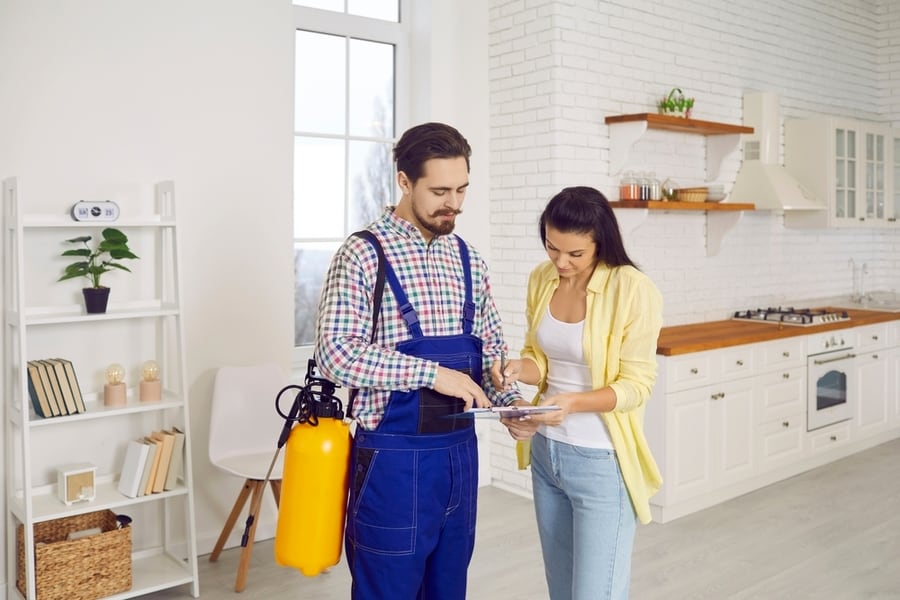 Pest control technicians interact with their customers daily, especially those under immense stress. As a result, it's essential for pest control workers to have outstanding communication and people skills when describing problems, solutions, and estimations and following up.
Clear communication and professional service will convert into satisfied customers.
5. Basic Language, Math, and Computer Skills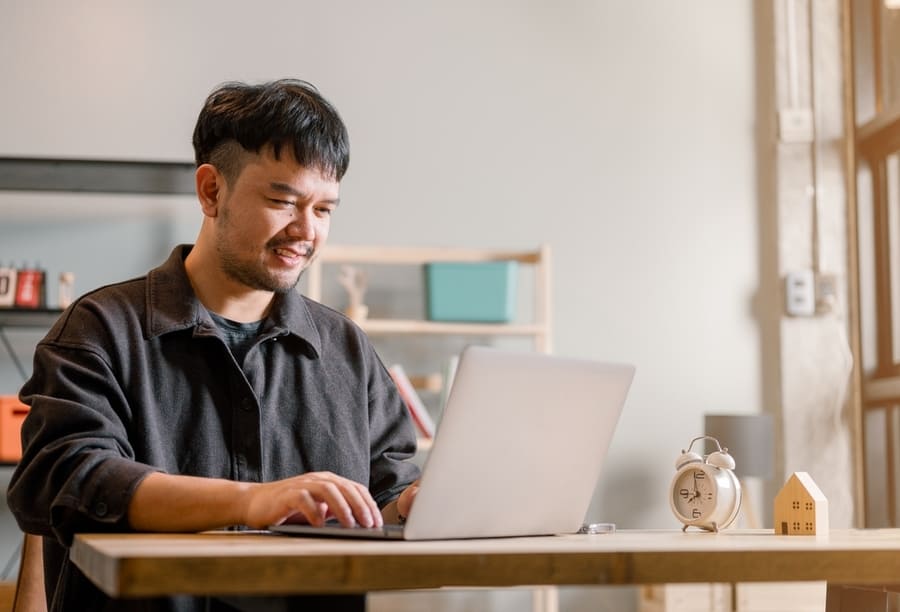 Pest control technicians usually provide upfront analysis, treatment plans, and cost estimates for their clients, which require basic language and mathematical knowledge.
Basic computer skills can also make the life of a pest control technician much easier. With these skills, technicians can present the information more professionally. For example, emailing about a follow-up is highly professional and prevents misunderstandings.
The Job Description of a Pest Exterminator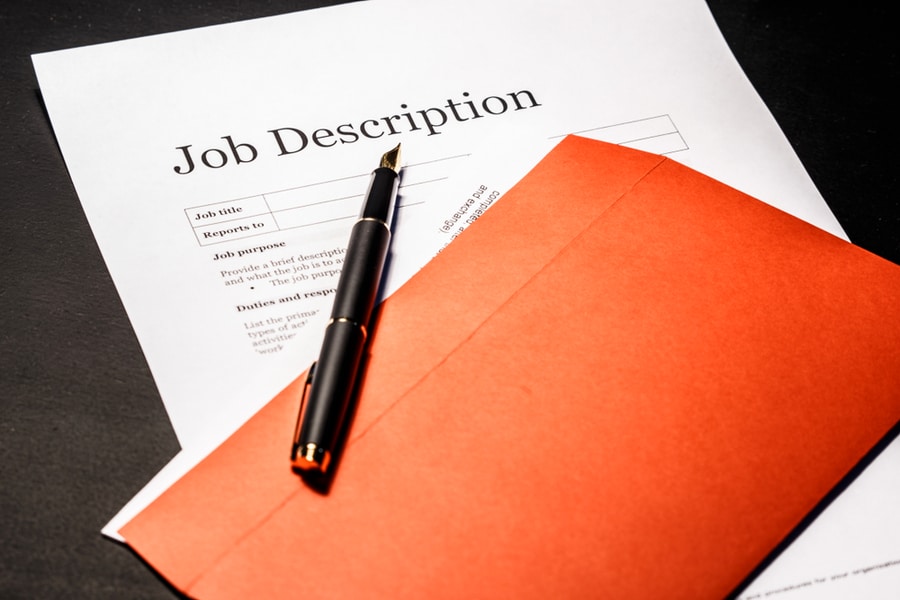 Pest exterminators usually start by carefully inspecting buildings and properties to assess the level of pest infestation and damage. They then use their expertise to present solutions to their customers alongside details such as fees and safety.
They should also have a thorough knowledge of the safe handling of chemicals and equipment. Let's take a more detailed look at some key responsibilities featured in a pest exterminator's job description:
Examining structures for any signs of pest infestations
Deciding on the best type of treatment for different pests
Calculating the area needing treatment
Estimating service costs
Creating pest management plans
Developing strategies to protect buildings and their occupants
Ensuring the safe use of pest baits and traps to eliminate pests
Ensuring the safe use of chemical pesticides
Creating barriers against pests
Driving vehicles equipped with spraying equipment
Providing expert maintenance tips to keep pests away
Creating follow-up plans and carrying out follow-up inspections
Eligibility Requirements To Become a Pest Exterminator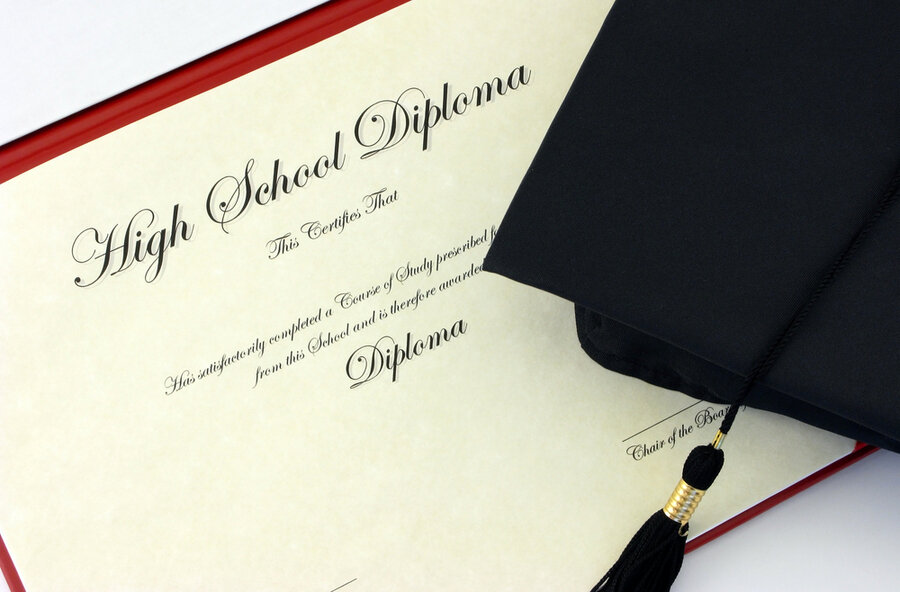 One of the greatest things about entering the pest control industry is that candidates only need a high school diploma to get started. Some other basic requirements include being at least 18 years old and having a clean record.
Some states require candidates to pass an EPA-approved training course. The great news is that anyone looking to get started can find pest control companies that provide on-the-job training and help their employees gain licenses and certifications.
How Much Does a Pest Exterminator Make?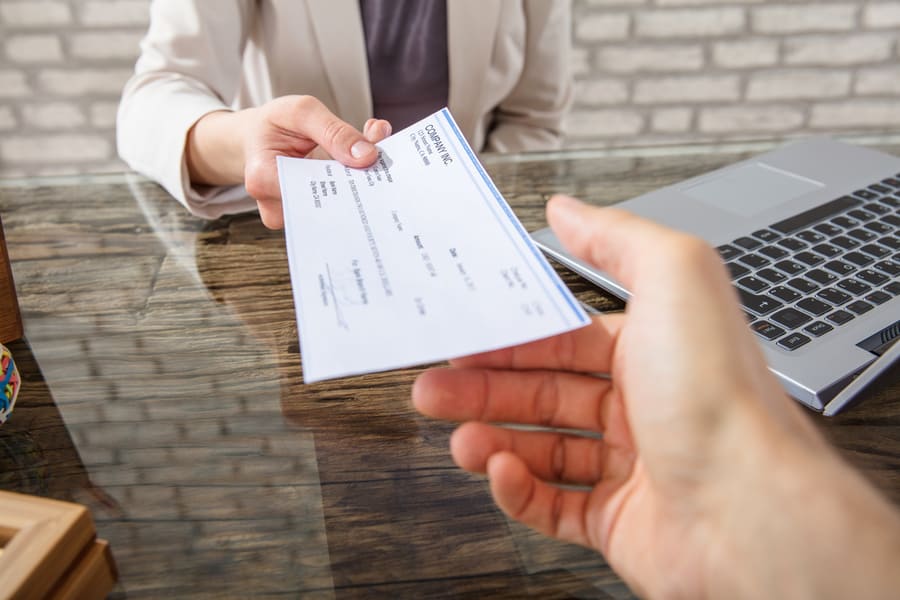 Most pest control workers earn approximately $28,000 to $58,000 per year. The median annual salary of a pest control technician in 2021 was $37,540, according to the US Bureau of Labor Statistics.
How Does the Future Look for Pest Control Workers?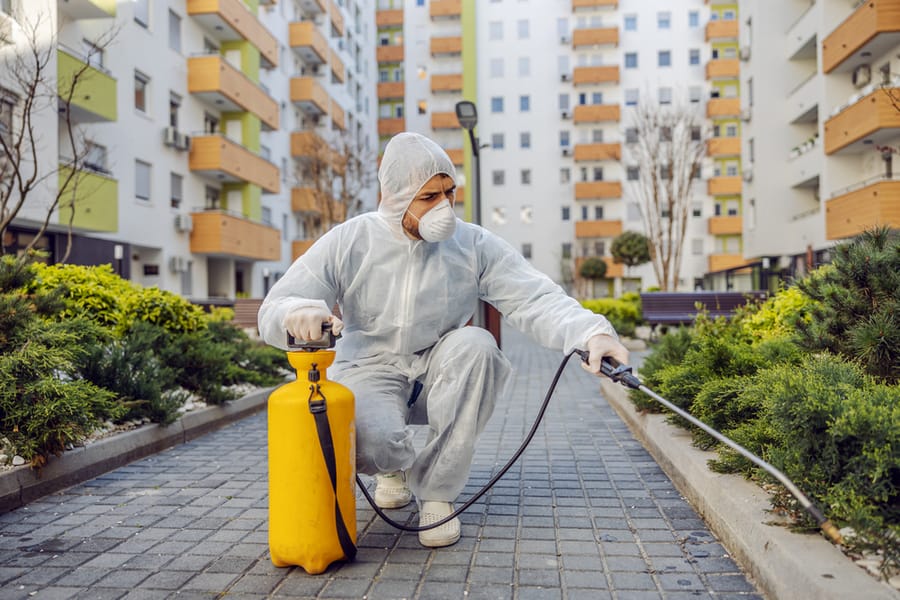 The pest control industry is growing steadily, with the US Bureau of Labor Statistics estimating a 10% growth in the next ten years. The demand for pest control is rising due to the increased number of residential and commercial buildings and the habitat loss of various animals.
Increased demand will convert to better wages and job security for pest control workers, with 7,500 new jobs on the horizon.
Risks Pest Exterminators Face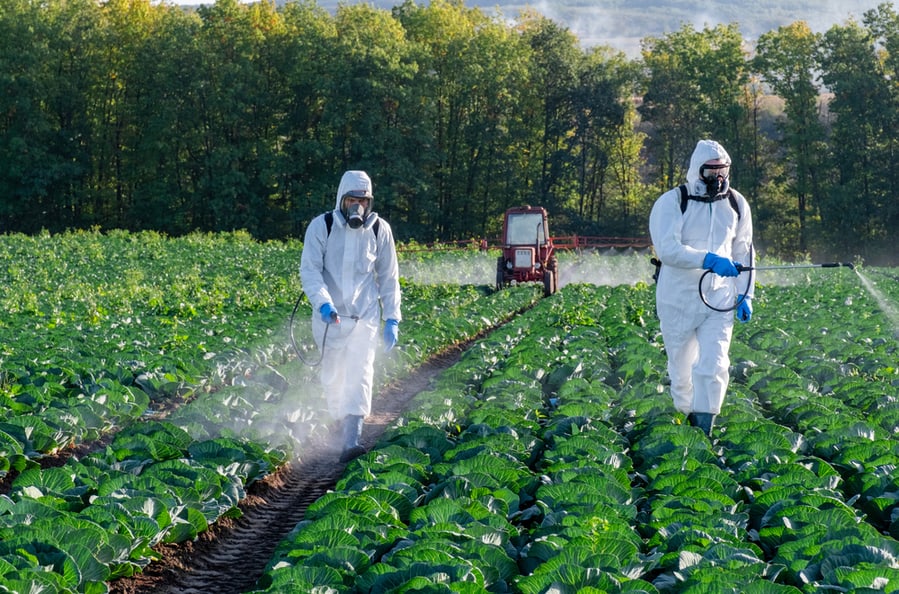 Working as a pest control worker involves certain risks. These include common injuries associated with physically-demanding jobs. More importantly, pest exterminators are required to work with toxic chemicals.
As a result, they must follow safety measures to avoid both short-term and long-term health effects caused by exposure to toxins. Long-term exposure to toxic chemicals and fumes might cause health problems such as reproductive issues, liver problems, and cancer.
How To Become a Pest Control Technician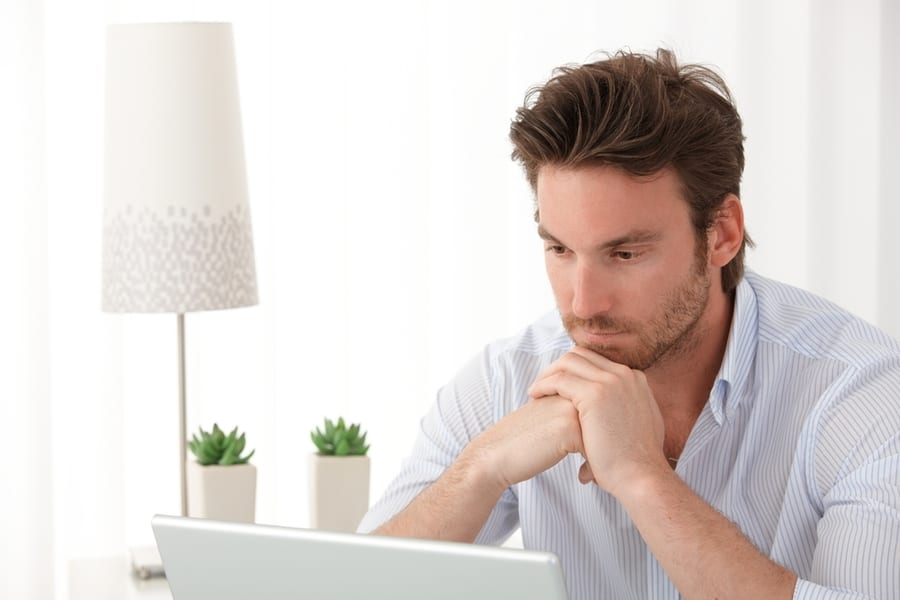 Anyone interested in becoming a pest exterminator has a few paths to achieve their goal. Therefore, it is essential to assess these options and weigh them against their aspirations, finances, and background.
Below are some requirements one should satisfy to have a stellar career in pest control.
1. Meet Eligibility Requirements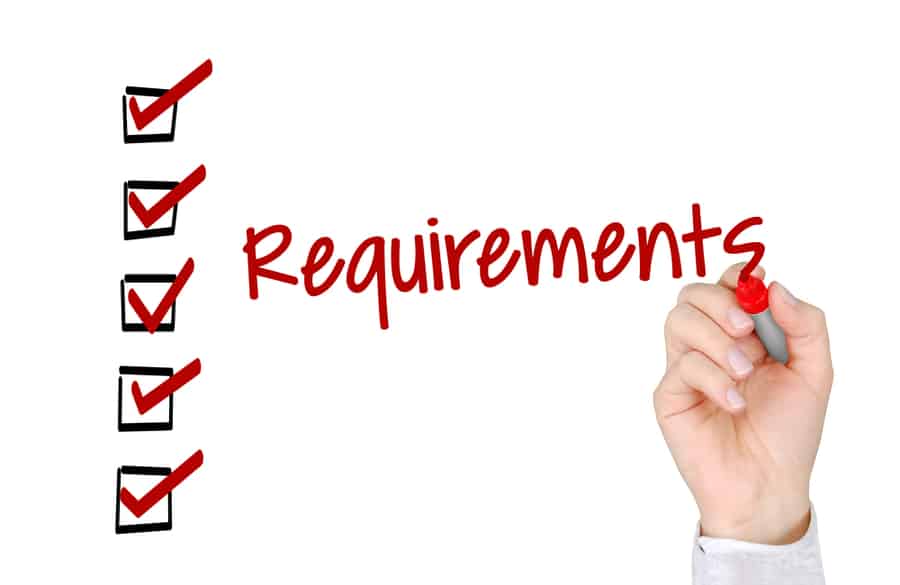 Entering the pest control industry is generally more straightforward compared to most others. It's important to remember that eligibility requirements sometimes change according to their state. Therefore, it's safe to check the particular state's eligibility criteria to become a pest control technician before getting started.
Most states have a minimum age requirement of 18 years to become a pest control worker. Additionally, candidates should have a clean record.
Having a good driving record also helps since the day-to-day job duties of pest exterminators require them to drive to different places. Candidates can order a copy of their driving record from their state's Department of Motor Vehicles (DMV) and seek their advice to improve their record if it is unsatisfactory.
Most pest control jobs also require a high school diploma. An alternative to obtaining a high school diploma is obtaining a General Educational Development (GED) certificate.
Such requirements make sense since pest control workers should have basic math, language, and chemistry skills, with knowledge of the basic biology of pests being an advantage.
2. Complete Pest Control Training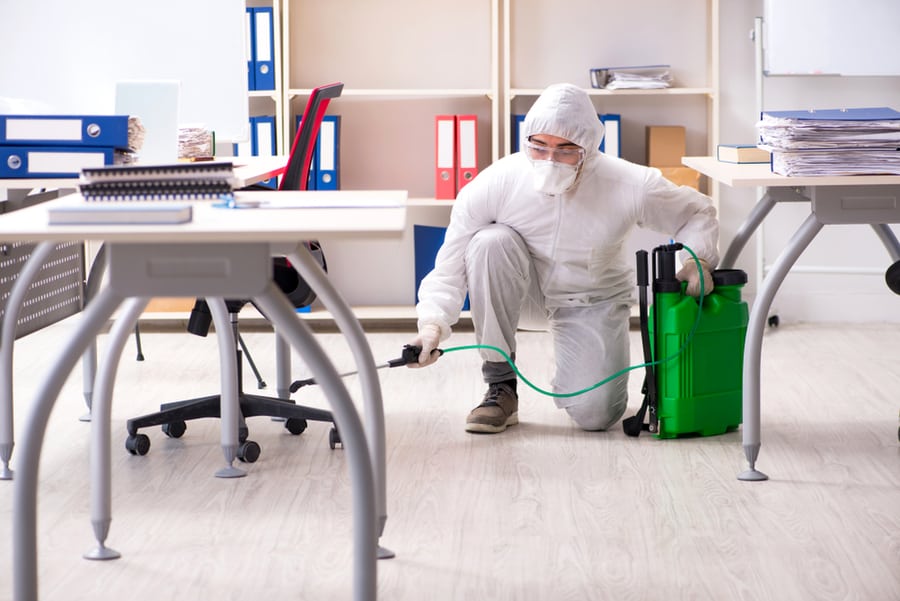 Becoming a pest control worker requires candidates to undergo training to learn proper techniques to remove or eliminate pests. They can receive basic pest control training by either following a pest control training program at a tertiary educational institution or finding employment at a company providing on-the-job training.
Following a Pest Control Training Program
Interested candidates can follow pest control programs at vocational schools, community colleges, technical centers, universities, or pest control training centers. While it's a preferable way to enter the pest control industry, candidates must have the finances to pay for such programs.
Receiving On-the-Job Training
The great news is someone can still receive pest control training even if they do not have the financial means to pay for a vocational school or community college program. Most pest exterminator companies offer trainee programs.
This is a preferable option for candidates since they will receive training while employed. In other words, they will receive free pest control training alongside a steady paycheck.
Completing on-the-job training provides excellent job security and career progression opportunities within the organization. On-the-job training usually lasts three months or less, including specializing in various techniques or pests.
3. Obtain a Pest Control License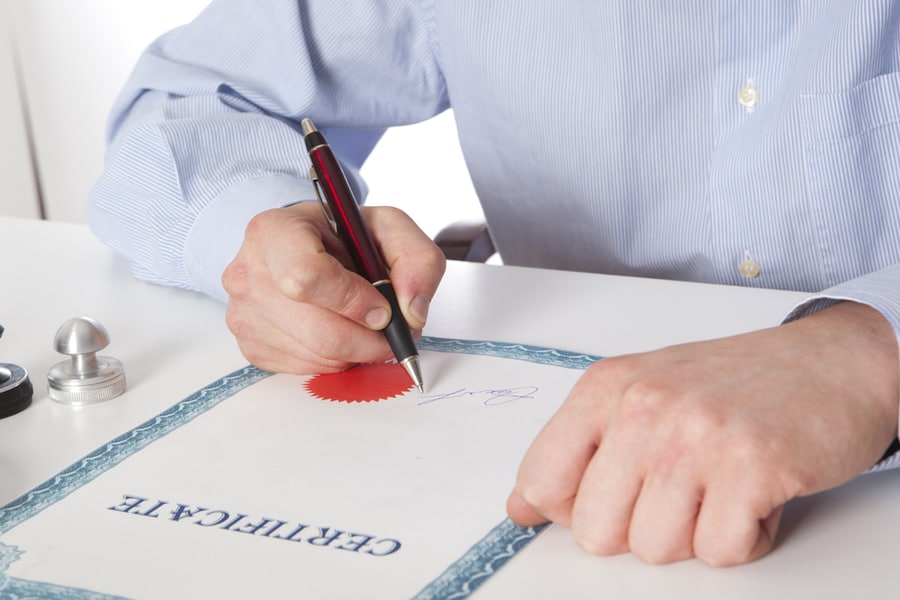 Pest control technicians need to be licensed to operate independently. While the eligibility criteria for certification vary depending on the state, most require candidates to complete either a pest control training program at a recognized tertiary educational institute or receive on-the-job training from a licensed pest control company as an apprentice.
A candidate who has recently completed a pest control training program can apply directly to gain a license to operate as a pest exterminator. In this case, they will need to bear the costs for certification, around $400 to $500.
An excellent alternative is to secure an apprenticeship with a licensed pest control company, where the company will cover the certification costs.
Some companies, especially bigger ones, offer classroom and practical education and guidance toward accreditation.
The required duration of the apprenticeship usually depends on whether or not the candidate has completed a recognized pest control program. It also depends on the rules on licensing in the particular state.
The eligible applicants must then pass an examination, which may be written, oral, practical, or a combination of these.
Pest control licensing, certification categories, and rules differ from state to state. Therefore, candidates must check their state's pest control licensing regulations and procedures and plan accordingly.
4. Target Recertification and Career Progression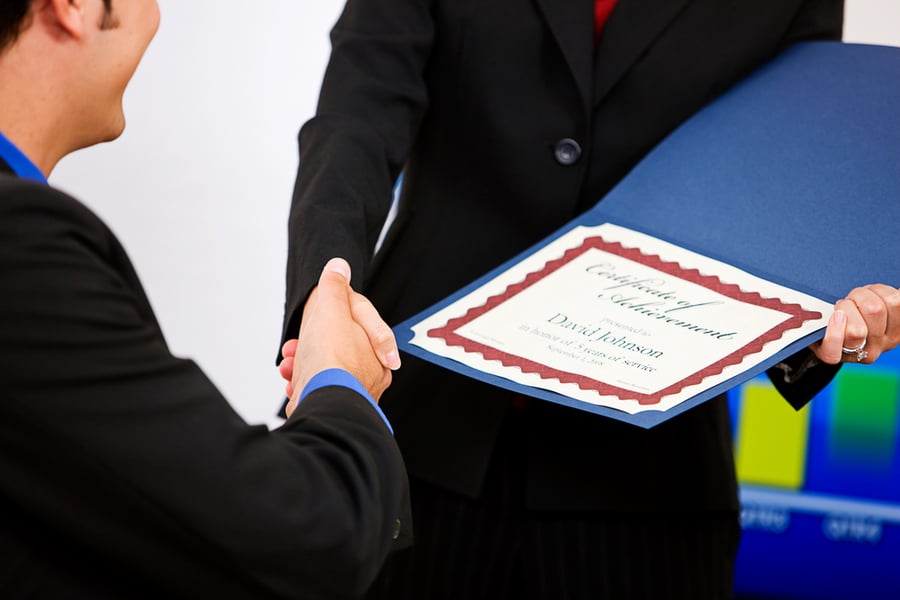 Most pest control licenses are only valid for three to five years. As a result, pest control professionals need to learn emerging practices and techniques in their trade to renew their licenses to operate and progress in their careers.
Furthermore, gaining additional certifications might also enable pest control technicians to advance in their careers.
Some states require pest exterminators to pass continuing education courses to maintain their accreditations. These programs are usually available in various institutions and pest control schools, covering multiple topics such as aquatic, forest, and public health.
Some recertification courses are available online as well.
Summary
I was impressed with my first-hand experience in consulting a pest exterminator. My appreciation for their service grew more after learning about their demanding daily schedules, job responsibilities, and challenges.
Pest control is an excellent industry to venture into, especially given the comparative ease of getting started as a trainee or apprentice.
The outlook for pest exterminators is highly desirable. The demand for their services is expected to increase steadily, supported by the increasing homeownership, habitat loss of various animals considered pests, and climate change.
This trend will create more job opportunities and better pay, which should be great news for anyone interested in becoming a pest exterminator.
Frequently Asked Questions
Is Pest Control a Stressful Job?
Pest control work can sometimes be stressful. One main reason is that the work in some areas can be seasonal, making it difficult to manage schedules during busy seasons. The slow season can also be stressful in terms of finances.
How Much Do Pest Control Exterminators Make?
According to the US Bureau of Labor Statistics for the year 2021, the average salary of a pest control technician is $37,540, with most workers in the pest control industry earning an annual salary of $28,620 to $58,660.
How Do I Get a Pest Control License?
Anyone interested in pursuing a career in pest control needs to gain a license before starting work. Generally, candidates must satisfy the following criteria:
At least 18 years old
Have a high school diploma or an equivalent qualification
Have proper industrial training
Pass an examination, which may be written, oral, practical, or a combination
Some states also require candidates to pass a background check.