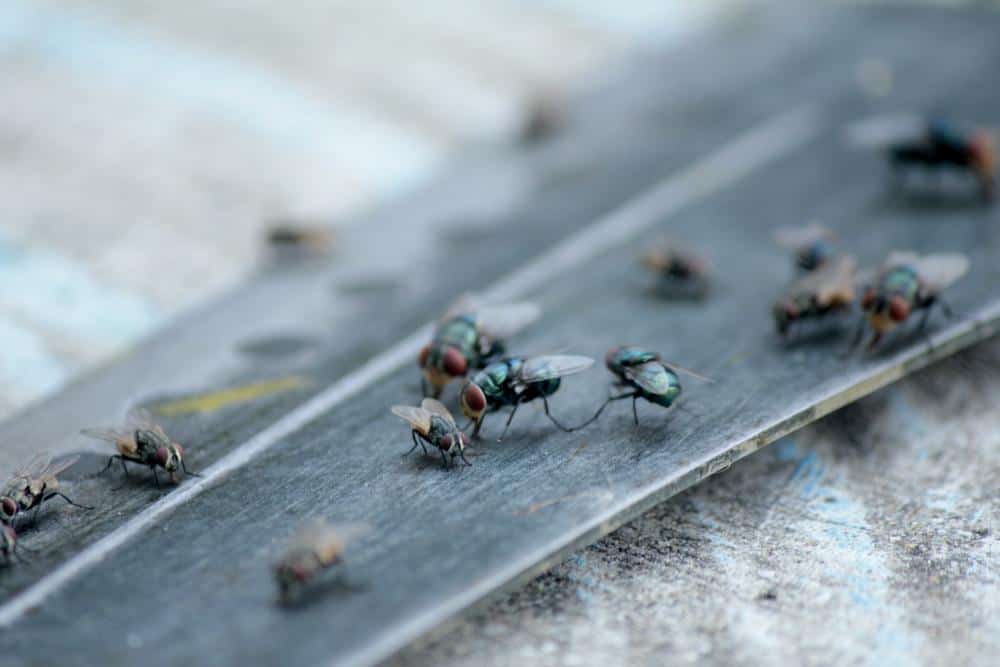 Indoor plants not only add a touch of green to your home, but they also purify the air and create a calming environment. However, if you've been noticing tiny flies hovering around your plants, you might be wondering why your indoor plants are attracting flies.
Indoor plants can attract flies due to overwatering, decaying organic matter, moist potting soil, and poorly sterilized compost. The main types of flies attracted to indoor plants are fungus gnats and fruit flies. To prevent and manage these infestations, avoid overwatering, remove decaying leaves and organic debris, use sterilized compost, and try natural remedies such as sticky traps, vinegar traps, hydrogen peroxide, and cinnamon powder. Regular plant care routines can also help keep your plants fly-free.
Types of Flies Attracted to Indoor Plants
The main types of flies attracted to indoor plants are fungus gnats and, to a lesser extent, fruit flies. Fungus gnats are tiny black flies that live in the soil of indoor plants and hover around them. They are primarily attracted to plants potted in containers due to the moist soil, which they lay their eggs in so that the larvae can feast on fungi in the soil. Fruit flies, on the other hand, are more attracted to rotting fruit, sugary drinks, and unclean drains, but they may be seen flying around potted plants as well.
Why Are Indoor Plants Attracting Flies?
Indoor plants can attract flies due to several factors:
Overwatering: Wet soil creates a favorable environment for flies, such as fungus gnats, to lay eggs.
Decaying organic matter: Flies are attracted to decaying leaves and organic debris on the soil surface.
Moist potting soil: Fungus gnats are drawn to moist potting soil, which provides a suitable habitat for their larvae.
Poorly sterilized compost: Some commercially available composts may not be properly sterilized, allowing fungus gnat larvae to thrive.
Signs Your Indoor Plants Are Attracting Flies
Here are some signs that your indoor plants may be attracting flies:
Presence of tiny flies: Small, mosquito-like insects flying around your plants, especially when you water them.
Slime trails: Traces of slime trails resembling those left by slugs or snails on the soil surface.
Zig-zag movements: Fungus gnats are not great at flying and tend to stay close to the plant, moving in zig-zag patterns.
Larvae in the soil: Tiny, transparent larvae in the soil around your plants.
Root damage: Fungus gnat larvae feed on plant root hairs, which can cause root damage.
Plant symptoms: Sudden wilting, loss of vigor, poor growth, and yellowing of the plant.
How to Prevent Flies from Infesting Indoor Plants
To prevent flies in houseplants, it is essential to avoid overwatering, remove decaying leaves and organic debris, and use sterilized compost. Additionally, you can cover the soil surface with a layer of gravel or grit to deter flies from laying eggs.
How to Manage a Fly Infestation in Indoor Plants
To effectively manage a fly infestation in your indoor plants, you can try the following methods:
Use sticky traps: Place yellow sticky traps near your plants or insert them into the soil.
Create vinegar traps: Mix a few drops of liquid dish soap with apple cider vinegar in a cup or glass.
Apply hydrogen peroxide: Mix one part hydrogen peroxide with four parts water and use this solution to water your plants.
Use cinnamon powder: Sprinkle cinnamon powder on the soil surface to help deter flies.
Control moisture: Avoid overwatering your plants and ensure they have good drainage.
Plants That Repel Flies
Some plants, such as lavender, basil, and rosemary, have fragrances that naturally repel pests. Incorporating these plants into your garden or home can help keep flies away.
Regular Plant Care Routines Can Prevent Flies
By following regular plant care routines, you can create an environment that is less attractive to flies, helping to prevent infestations and maintain the health of your plants. These routines include proper watering, good soil quality, regular cleaning, and proper ventilation.
Common Misconceptions About Indoor Plants Attracting Flies
Contrary to popular belief, houseplants themselves do not attract fruit flies. Instead, these pests may be attracted to other sources in your home, such as rotting fruit, sugary drinks, unclean drains, and dirty surfaces.
In conclusion, while indoor plants can attract flies, there are several effective measures you can take to prevent and manage these infestations. Regular plant care, proper watering, and the use of natural remedies can all help keep your plants fly-free.
Frequently Asked Questions
What are some other pests that can infest indoor plants?
Apart from flies, indoor plants can also be infested by pests such as spider mites, aphids, scale insects, and whiteflies. These pests can cause a variety of issues, including leaf damage, stunted growth, and in severe cases, plant death.
How often should I water my indoor plants to prevent overwatering?
The frequency of watering indoor plants can vary depending on the type of plant, its size, the pot size, and the environment. However, a good rule of thumb is to water your plants when the top inch of soil feels dry to the touch. Overwatering can lead to root rot and attract pests like fungus gnats.
Are there any chemical pesticides that can be used to eliminate flies from indoor plants?
Yes, there are chemical pesticides available that can help eliminate flies from indoor plants. However, these should be used as a last resort and only if the infestation is severe. It's important to follow the manufacturer's instructions and to keep these chemicals away from children and pets.
Can flies harm my indoor plants?
Yes, certain types of flies, like fungus gnats, can harm your indoor plants. The larvae of these flies feed on the roots of the plants, which can cause damage and potentially stunt the growth of the plant.
How can I tell if the compost I'm using is properly sterilized?
Commercially available compost should be sterilized, but it's always good to double-check. Sterilized compost should be free of weed seeds and disease-causing organisms. If you're unsure, you can sterilize it yourself by baking the compost in the oven at 180°F for 30 minutes.